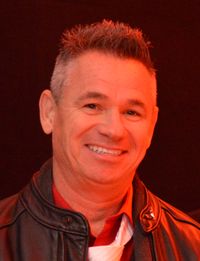 Hal (vocals) began his music career in elementary school.  Yes, he was that kid toting around the violin case, hoping others thought he was bringing it to Al Capone. From there he transitioned to the drums and later the bass. He then discovered Steven Tyler, and like many kids his age, he was immediately hooked on rock.  He played in local bands all through high school as both the lead singer and bass player before helping form the hair band: Goldwing in the early 80s: they were Winger before Winger was Winger!  With Goldwing, Hal played the Boston music scene for numerous years rocking out local venues like the Channel, Bunratty's, and the Rat alongside bands like Extreme and the Wild Bunch before answering the patriotic call of duty.  That call of duty saw Hal tour the world in the Marine Corps, during which he continued rockin as part of the band Ten Hills writing and recording originals.  However, after 22 years, it was time for something new.  He heard about an opening with the Stone Temple Posers.  A huge fan of Scott Weiland, says Hal "this was a chance to pay homage to a singer who has given so much to so many."   


 
---

Paul (guitars) has been spent the last 25+ years perfecting his axe chops in a variety of hot club bands (such as Slant6, the Nerve, Smokehouse Lightning, Working Stiffs, and the DP Band), a brief stint with another STP tribute with Olaf. With Smokehouse Lightning , Paul opened up for Lynyrd Skynyrd and Joan Jett. Along with STP, Paul loves all the best 90s bands like Pantera, Alice in Chains, Soundgarden and The Deftones. Paul played with John and Olaf in the Nerve from 2003 to 2008.  They reconnected in late 2014 to start the Stone Temple Posers.

 
---
John (drums) has been banging on everything from pots and pans to garbage cans since he was knee high to a grasshopper. Seems that with stick in hand, beat will follow. He has been playing in bands since before he was of legal drinking age.  He has been in various bands including Wretched Von Krank, the Nerve, the DP Band, and Cold Comfort.  John's influences include: STP, Nirvana, Tool, the Captain &Tennille, and the Drop-kick Murphy's. Johnny has perfected his craft by jamming with a variety of local musicians, including the legendary Wretched Von Krank, where he first teamed up with his step-dad Olaf. Although Johnny is the youngest member of the band, with his talent, youth, and ability, he has become the driving force behind the Stone Temple Posers relentless energy.  John played with Paul and Olaf in the Nerve from 2003 to 2008, with Paul in the DP Band from 2011 to 2012, and with Olaf in Cold Comfort in 2013.  John and Olaf reconnected with Paul in late 2014 to start the Stone Temple Posers.

 
---

Olaf (bass/vocals) started his stringed musical career with the guitar in high school. He switched over to the bottom end (inspired by Sting) several years later and has been thumpin the bass ever since. He has played in numerous bands throughout the years including: Ocean, Tight Squeeze (where he backed up Herb Reed of the Platters), Sal and the Exciters (later the Exciters), Wretched Von Krank, Let it Slide, Synergy, Coupe DeVille, Legends in the Making (including Aerosmith's original drummer: Pudge and his son Drew), the Nerve, Bedrock, Crown of Apathy (a STP Tribute) Stone Temple Aviators (another STP tribute), and SiN (yet another STP tribute).  Olaf's influences (yesterday and today) include: Aerosmith, RHCP, Neil Young, Audioslave, RATM, and of course STP. Olaf reconnected with John and Paul in late 2014 to form the Stone Temple Posers.  Olaf's equipment now includes Schecter 4-string basses and a Hartke stack.