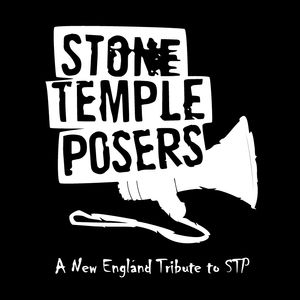 The Stone Temple Posers are a STP Tribute band based out of Plaistow, New Hampshire.  They were formed in the latter half of 2014 when the bassist (Olaf), guitarist (Paul), and drummer (John), who have played together in various bands including the Nerve from 2003 – 2008, reconnected and decided to pursue a new project, a STP tribute band.  Paul and Olaf are no strangers to STP, both had played briefly with Crown of Apathy (also a STP Tribute) in 2011, and Olaf played with the Stone Temple Aviators and SiN (also STP Tributes) in 2011 and 2012.  After searching for a lead singer, they found their first lead singer Scott in October 2014.  Scott fronted the band until August 2015, when he and the band parted ways.  In September 2015, the band found Hal.  Hal has covered numerous STP songs in various bands over the years.  With this lineup of committed STP disciples, you can't go wrong with the Stone Temple Posers.  In March 2016, they learned a number of unplugged songs, so they are now able to perform acoustic unplugged STP sets too.

The aim of the Stone Temple Posers is to re-create the awesome music that STP is known for.  Their ultimate goal is to play the hits and other gems from each of STPs eight albums.  From the early grunge Core and Purple albums, through the glam rock Tiny Music, No. 4 and Thank You albums to the post grunge psychedelic era Shangri-la dee da, 2010, and 2013 albums, and their 2018 an 2020 releases with Jeff Gutt, their catalog rocks!  They also pay homage to Scott's side-project Velvet Revolver and STP's cover of Zepplin's Dancin Days.

Come experience the megaphone intro to Dead and Bloated, the searing guitar solos in Piece of Pie, the harmonies in Sour Girl and Creep, the catchy bass riffs on Interstate Love Song, the slinky slide guitar in Big Empty, and the relentless pounding drums of Down; if you like STP, you'll just love the Stone Temple Posers.  They even play songs you will rarely hear STP play live.  For you nay-sayers and grunge-haters, if you think you are not familiar with STP's catalog, you will most certainly come to appreciate STP's great song-writing ability and the energy that the Stone Temple Posers bring to each of their live shows.

More information on songs the Stone Temple Posers play can be found here:
Stone Temple Posers songs

The Stone Temple Posers suggest that STP fans who are interested in more information about the Stone Temple Pilots go to http://www.belowempty.com/ , which is a great fan website dedicated to STP.